Race: Button Wins Chaotic First Race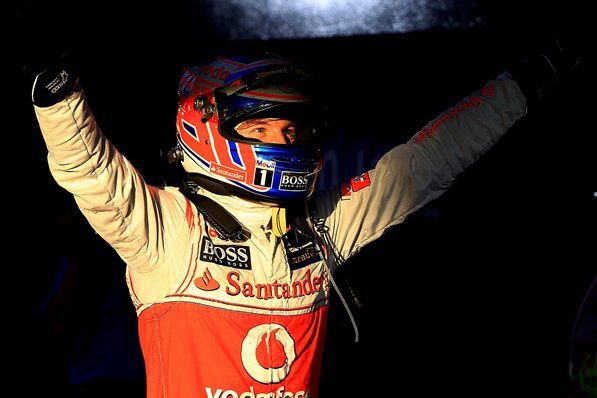 McLaren and Jenson Button ruled the Australian Grand Prix, which was filled with jaw dropping action and excitement. From lights out to the chequered flag, there was never a moment where I was bored. I was on my toes until Jenson crossed the line to win the first race of what is certainly going to be a terrific season. Sebastian Vettel was able to work his strategy out right and he finished second ahead of a disappointed Hamilton.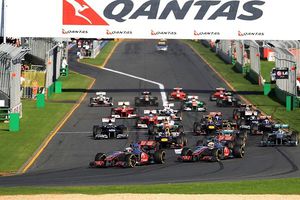 Jenson took the lead at the first corner of the first lap while cars in the midfield started crashing. Mark Webber, Daniel Ricciardo, and Bruno Senna were among those involved in the first corner collision and all of them were forced to pit, however, none of them retired at that point. Nico Hulkenberg must have picked up damage from the accident as well because his Force India was pulled over in the gravel on the same lap.
Romain Grosjean was running sixth after a bad start, but things were about to get worse! Maldonado cut Grosjean off and the Lotus was forced to retire with suspension breakage. Kimi Raikkonen was now the only Lotus left in the race, which meant he had to impress. He did, in fact, and was running in sixth. Meanwhile, Jenson had pulled a ten second gap over Hamilton out and was cruising up front until the enevitable event took place.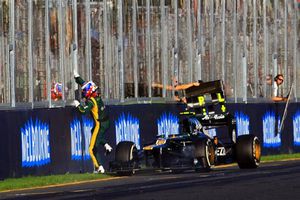 The safety car was out. The reason behind its deployment was Vitaly Petrov's stopped Caterham on the start/finish straight. It didn't seem to be major, but a crane had to be taken onto the track to remove the Caterham, which needed the safety car to come out and guide the field around the stricken car. The safety car allowed Vettel to pit and rejoin in second in front of Hamilton. This move was cruicial for Vettel, because he could gain an advantage at the restart over Button.
However, there was no chance at all. Button went flying off into the distance and Vettel maintained his second position. Later on, Massa and Senna came together putting the Ferrari out of the race, and Senna eventually retired as well. Considering the Williams had been launched over a Toro Rosso and slammed into by a Ferrari, it was a surprise he had managed to make it that far. Now, the team's only hope was Maldonado, who was running in sixth and hunting down Alonso. Maldonado was performing exceptionally well and was en route for scoring more points than Williams itself had scored in the entire season last year in just this one race. Unfortunately, Pastor cracked under pressure on the final lap and speared the Williams into the wall.
Rosberg appeared to be stuck in gear on the last lap and he dropped out of the points, while Perez, Ricciardo, di Resta, and Vergne were neck and neck going across the line, and they finished in the order stated above.
A recap article will be released with a more detailed description of the race, but for now, here are the results:
Pos
No
Driver
Team
Laps

Grid
Pts
1
3
Jenson Button
McLaren-Mercedes
58
1:34:09.565
2
25
2
1
Sebastian Vettel
Red Bull Racing-Renault
58
+2.1 secs
6
18
3
4
Lewis Hamilton
McLaren-Mercedes
58
+4.0 secs
1
15
4
2
Mark Webber
Red Bull Racing-Renault
58
+4.5 secs
5
12
5
5
Fernando Alonso
Ferrari
58
+21.5 secs
12
10
6
14
Kamui Kobayashi
Sauber-Ferrari
58
+36.7 secs
13
8
7
9
Kimi Räikkönen
Lotus-Renault
58
+38.0 secs
17
6
8
15
Sergio Perez
Sauber-Ferrari
58
+39.4 secs
22
4
9
16
Daniel Ricciardo
STR-Ferrari
58
+39.5 secs
10
2
10
11
Paul di Resta
Force India-Mercedes
58
+39.7 secs
15
1
11
17
Jean-Eric Vergne
STR-Ferrari
58
+39.8 secs
11
12
8
Nico Rosberg
Mercedes
58
+57.6 secs
7
13
18
Pastor Maldonado
Williams-Renault
57
Accident
8
14
24
Timo Glock
Marussia-Cosworth
57
+1 Lap
20
15
25
Charles Pic
Marussia-Cosworth
53
+5 Laps
21
16
19
Bruno Senna
Williams-Renault
52
Accident damage

14
Ret
6
Felipe Massa
Ferrari
46
Accident damage
16
Ret
20
Heikki Kovalainen
Caterham-Renault
38
Suspension
18
Ret
21
Vitaly Petrov
Caterham-Renault
34
Steering
19
Ret
7
Michael Schumacher
Mercedes
10
Gearbox
4
Ret
10
Romain Grosjean
Lotus-Renault
1
Accident
3
Ret
12
Nico Hulkenberg
Force India-Mercedes
0
Accident damage
9
DNS
22
Pedro de la Rosa
HRT-Cosworth
DNS
23
Narain Karthikeyan
HRT-Cosworth