Remembering The Great Career of Ayrton Senna
Amazing Ayrton: Senna had an amazing career that unfortunately ended early. But he will always be remembered.
At the start of the 1984 Formula 1 World Championship, a young man made his debut for the Toleman team. He was a young Brazilian named Ayrton Senna. He started his championship at his home grand prix in Brazil but retired his car on the eighth lap. He recorded his first finish along with his first point in the South African Grand Prix. Senna had shown his talent already.
His best race of the season was the Monaco Grand Prix, which he might have won. He was running eighth in the pouring rain but he was on a massive charge. Mansell crashed out and Piquet retired with an electrical problem. He devoured Niki Lauda for second and was on the chase for Alain Prost, the leader. He was catching up rapidly but Prost waved his hands to show his feelings for the conditions. The race was red flagged and Prost won but Senna was an excellent second. There was a World Champion sitting right there.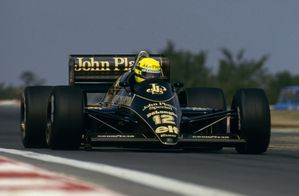 Ayrton Senna switched to the Lotus team for the 1985 season which was the right decision for the rising talent. He retired from the Brazilian Grand Prix which left him without a finish at his home grand prix.
His fortune was about to change at the Portuguese Grand Prix. He took the pole position for the race but the race was filled with torrential rain. Senna took advantage of the weather and won the race.
Senna didn't just win the race though. He dominated it. Ayrton won the race with a minute in hand over Michele Alboreto and had lapped everyone else. Niki Lauda and Alain Prost had a title fighter breathing down their necks and they were going to have to start being careful because Ayrton Senna could be right their to spoil their day.
He continued to challenge for wins and podiums with Lotus which made it hard to make the decision to move to McLaren. He would join the team alongside Alain Prost, who was a two-time World Champion at the time. Senna was pleased to be racing with such a talented driver but neither one of them knew that their rivalry between each other could be the biggest in Formula 1 history.
Senna took pole in Brazil but he was disqualified on lap 31. Prost won the race and looked to be on his way to a third title. But Senna wasn't giving up this early. He scored pole and victory in Imola and finished second in Mexico from pole. He continued his dream with wins in Canada and the United States which now put him only twelve points behind Prost. Senna's pole streak ended at six in France when Prost took pole and the win. Senna started third in Britain but went on to win.
He pulled three more wins and four more poles out of his hat before the Italian Grand Prix where things went wrong. He crashed with two laps remaining but was still classified. Senna didn't do well in Portugal, where he scored his first ever victory. Sixth place still meant that Senna was still behind Prost in the championship. That's where Senna would stay but he would be champion counting his best results and Prost's. Senna's first year with McLaren was victorious.
superSenna: It was an epic year for the Brazilian.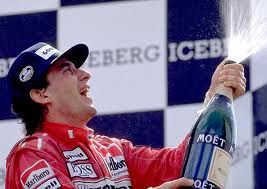 In 1989, the championship was decided after a collision in Japan. Prost and Senna crashed going into the chicane. Prost was out while Senna kept going. He was disqualified for gaining an illegal advantage and Prost won the title. It was a similar situation in 1990 where the two crashed at the first corner in Japan. Both were out but Senna was the champion.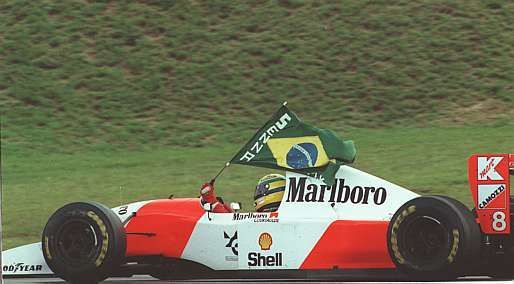 In 1991, Senna was still waiting to win his home grand prix in Brazil. He was leading the race comfortably but his gearbox broke and many thought his race was over. He was so motivated that he continued only using one gear. He took the chequered flag, celebrated, then passed out.
He got up on the podium but could barely lift his trophy. Soon he reached up high and raised the Brazilian trophy high. "It was the best day ever," said Senna. He went on the win the title by 24 points but that would be his final title.
1992 and 1993 were rough and brought only a few race wins. He decided to switch to the Williams team for 1994 because of how competitive they were in the previous seasons. The season started badly when Senna spun off in Brazil. It didn't improve for the Pacific GP when Larini and Blundell collided with him on the opening lap.
He hoped that he could get his championship started in Imola but things got rapidly worse. His fellow Brazilian, Rubens Barrichello was involved in a massive crash on Friday that forced him to miss the race. It got worse on Saturday when Roland Ratzenberger hit the wall at high speed and his injuries were fatal. The race started with a huge crash when Lehto stalled and Lamy hit the Benetton. The race went under the safety car for several laps. When the safety car finally came in, Senna led from Schumacher. His Williams hit Tamburello on the seventh lap and Senna was motionless in the cockpit.
The race was red flagged and Senna was taken to the nearby hospital in Bologna. The news came in that the Brazilian had died from his injuries. It shocked the racing world and it took away one of the most talented drivers ever. Senna is still remembered today and will be forever.