Rubens Barrichello - Under-estimated
This question, Who is the Best Driver? isn't often asked because it seems quite obvious. But it really isn't. Some drivers appear to be faster or slower, better or worse, but part of that speed could be the car that they're driving. Their team could give them more power than they would have or make them look silly. Some of the speed or lack of speed is the driver but sometimes the team makes the driver look good or bad. Rubens Barricehllo is a perfect example.
Broken Barrichello: Rubens may not have a drive next year because his Williams team makes him look slow.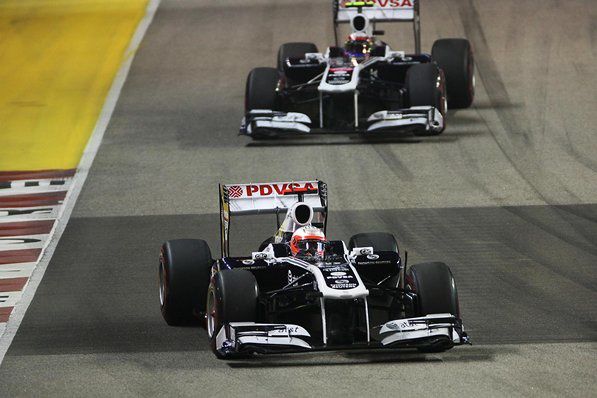 One of the drivers that is under-estimated is Rubens Barrichello. Barrichello chose to drive with Williams in 2010. This decision was made because Barrichello liked the historic team and had always wanted to be a part of it.In 2010, Williams was able to keep up with the pace of the mid-pack and score in the higher and lower end of the points. In 2011, however, their pace all of a sudden dropped off. The team has been the worst team other than the three junior teams and has scored only five points in the 16 races run.
This wasn't helping Barrichello for sure. Rubens reitred from the Australian and Malaysian races with hydraulics and transmission problems. He picked up two points in Monaco with a ninth. He got two more in Canada when both races were red-flagged.
An oil leak in Germany forced him to retire on the sixteenth lap. Even after the first few races, it was clear that the season was falling apart. People say that next year he can fight back or move to a new team. But there might not be a next year. Barrichello doesn't have a contract for 2012 and most of the teams better than Williams don't plan on dropping their drivers or they already have both seats filled.
Barrichello is fast though and I have a way to prove it. Rubens was a special guest on the BBC program, Top Gear for the F1 drivers section. This was a good way to compare the field of F1 because they all went around the track in the exact same car. Barrichello went out and topped the board with a 1:44.3. Barrichello beat The Stig, the top gear test driver who was at the top of the board for as long as anyone can remember. Sebastian Vettel beat Rubens's time putting in a time of 1:44.0 but Barrichello is still second overall.
Rubens will have to rush to get a contract for next year or his career could end at an amazing eighteen seasons and when he finishes this season, 326 Grands Prix entered. Will Rubens race next year? We all hope so since he is a very entertaining and fast driver.