Schumacher's 2011 - Bad Results Followed by Good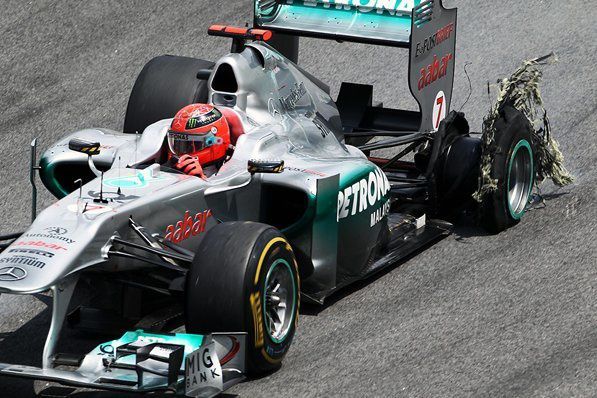 IMAGE [1]: Michael Schumacher drives to the pits with a puncture after a collision with Bruno Senna
Michael Schumacher didn't have a bad 2011 Formula 1 season, but it wasn't the best. Along with some good results, there were some moments that would never have happened back in the days. Schumacher has had multiple collisions with Renault drivers, most especially Petrov, and usually the race would end in retirement. Many things have gone wrong for Schumacher this year, but he managed to only finish behind his teammate by thirteen points.
Over the season, Schumacher has retired five times, scored seventy-six points, finished eleven races in the points, and has made it to Q3 nine times. This isn't something you'd expect from a seven-time World Champion. It might not even be what you'd expect from a two timer. Michael Schumacher still has the passion for Formula 1 as he did back when he was winning every race of the season, but now he has a different view of the action.
The Australian Grand Prix, the season opener, didn't go to well for Michael. Like in the final race of the season, in Brazil, his Mercedes had a puncture, but unlike the finale in Brazil, the damage in Melbourne was too big to continue racing. This would be his first of five retirements in the year.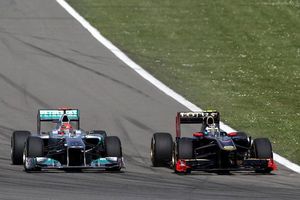 Schumacher was able to pull six points away from Sepang and Shanghai, but the beginning of a rivalry was starting up in Istanbul.
IMAGE [2]: The start of a rivalry: Schumacher and Petrov moments before the crash.
Michael got his best grid position of the season with an eighth, but things took a turn for the worst in the race. Michael's Mercedes was left with damage after a collision with Vitaly Petrov, which made Schumacher pit for an unscheduled stop, which left him in twenty-second. He pulled away from the backmarkers but didn't have enough time to make it back into the points. He would have to do with twelfth.
Schumacher got his best result of the year so far in Spain, with a sixth place. It was a nice relaxing race for the German, with no crashes to worry about. The Monaco Grand Prix started well when Michael got his best grid position of the year, with the fifth fastest Qualifying time. The race didn't go as well as Qualifying, however. He retired on Lap 32 with a fire in the airbox. It was a disappointment for Schumacher, who was fighting up the field after a bad start.
Michael's best race of the year however, was Canada. The "King of the Rain" hadn't been knocked off his throne and the King himself proved that. In the torrential conditions in Montreal, Schumacher finished if fourth place, after missing out of a podium by less than a second. This good result put Michael back where he should be, but things would get bad again in Valencia.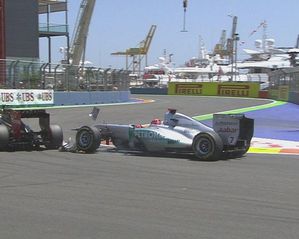 In the European Grand Prix Qualifying, Schumacher did a good job to qualify eighth. He was running well in the race, but after his first pit stop, he came out behind Petrov and the two crashed once again. Both drivers continued to race, but both of their afternoons were ruined. Michael continued his bad luck string in Valencia with a seventeenth place. After a couple of bad results, Michael Schumacher was six points behind his teammate.
IMAGE [3]: Schumacher hits Petrov right after his stop which would make Michael pit again just one lap later.
The British Grand Prix was okay, but way better than Valencia. He had a crash with Kobayashi which damaged his front wing, and raised question over himself. Michael's home race in Germany, went very well. He started from P10 and finished the race in eighth. He needed the four points from the Nurburgring, because things got bad yet again in Budapest. The Hungarian Grand Prix started well, with a nint place on the grid, but ended badly, with another retirement. This DNF was a mechanical problem, not a driver error.
Schumacher's Belgian Grand Prix didn't start great at all. Michael crashed in the opening minutes of Q1 and couldn't get back on track again. He would start the race from 24th. His race might be one of his best, though. He picked away car after car and moved his name way up the running order. Soon, you'd never know he started in last. He was able to pip his teammate for fifth place, ten points that the Mercedes driver desperately needed.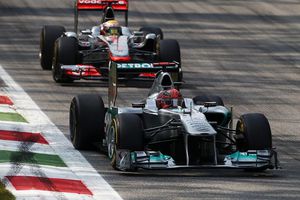 Monza was good too, with Michael putting his Mercedes on the eighth grid position. The race got even better as he finished fifth after a long battle with Hamilton. He was not having to worry about Petrov, because Vitaly had crashed on the opening lap. Michael was lucky not to get involved in the opening lap carnage, because two of the cars retiring were placed seventh and ninth on the grid. Michael was eighth, but got away.
It was a completely different story in Singapore. One thing that wasn't different was that Schumacher was eighth on the grid. But he dropped down in the race to find himself fighting against the Sauber drivers. While attempting to overtake Perez, Michael pulled a Mark Webber on Sergio Perez and got shot in the air and into the wall. It shocked everyone, but the seven-time champ was perfectly fine.
Yet again in Suzuka, Michael qualified eighth. This was the sixth time he had done so. More importantly, the race got even better, which put Schumacher in sixth place. Bad result followed by good is the pattern that Schumacher seems to be following this season. With the good results, but not so good consistency, Michael was only a few points behind his teammate. They could be fighting to the end for sure.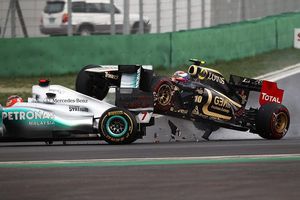 Korea didn't go to well at any point over the weekend for Schumacher. He qualified 12th, which was his worst since Belgium, and he had another collision. This time, he wasn't the one hitting Petrov, now Petrov came ramming into him. Schumacher retired immediately due to rear wing damage, while Petrov retired after another lap with minor suspension damage.
IMAGE [5]: Schumacher gets slammed into by Petrov.
But again, bad result followed by good result was Schumacher's game, and he continued to play it correctly. He qualified eleventh in India, but his race got way better. Michael was able to crawl his Mercedes up to fifth, which gave him ten well deserved points.
Abu Dhabi would be the last place where Michael Schumacher would qualify in eighth position this year, but he wasn't just going to throw the position away. He only made up one position in the end, but seventh wasn't all that bad. In fact, it set Schumacher up for a chance to beat Rosberg in the standings. There would be a battle in Brazil for sure.
Michael qualified tenth because he didn't participate in the Q3 session, but his season would end on a low, after Bruno Senna tagged his left rear and gave him a puncture. He was able to continue, but he finished way down the order in fifteenth. It was a bittersweet year, but not enough sweet to overhaul Rosberg's total of points. All in all it was a good season, but could have been better. Can Michael make it better next year?