Sebastian Vettel - Unbeatable, Unstopable
Sebastian Vettel always had the potential of an F1 World Champion. After his first title, Vettel said this:

"Yeah, I am a bit speechless. I don't know what you are supposed to say at this moment. It has been an incredible tough season for me, for all of us, physically and mentally especially. Some of my special supporters are here, some of them are in Kerpen supporting me but also back in my home town, Heppenheim, so I just got to say thank you very much."



Vettel had started his F1 career in 2007 when Robert Kubica crashed heavily in Canada and was forced to miss the following race in the Untied States. Vettel would then become the youngest driver to score points at an F1 event. He would also lead in soggy Japan before dropping out. His pace was defined again with a fourth in China.

In 2008, more excellent results proved that the young German hot some natural talent. When F1 went to a rainy Monza, Vettel took a surprising first pole for him and his Toro Rosso team. He would go on to win the race in wet/dry conditions the day later. Vettel finished an excellent 7th in the final standings and was promoted to the "senior" Red Bull Renault team for 2009.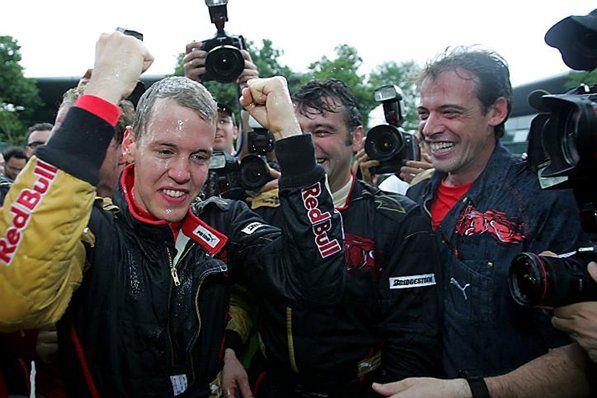 Driving alongside Mark Webber, Vettel didn't have any luck in the opening races, crashing out at both. Results improved at China where Sebastian led home Red Bull's first one-two finish in the rain. As the season progressed, Vettel was often on the podium along with his teammate Webber. To prove that he was just as good a driver in the dry as in the wet, Vettel won at Silverstone from pole. In Hungary and Europe, bitter retirements meant that he would drop to 4th in the overall points standings. With a couple more races without improvement, Vettel's title hopes seemed to slip away. Things changed in Suzuka, Japan where he got pole position and went on to win. He also won in Abu Dhabi to secure the runner-up spot in the championship.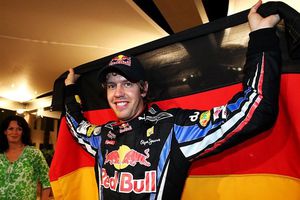 Coming off a good 2009 season, Vettel was sure to dominate the 2010 season. Things all started with his season starting pole in Bahrain. He was in control of the race until mechanical failures dropped him to 4th. Vettel was set to try again with another pole in Australia. He was once again leading handily but he spun off under braking and retired. In Malaysia he didn't get pole but passed polesitter and teammate Webber right at the start. He led the rest of the race to win for the first time in 2010. He qualified on pole in China but bad strategy choices found him at the lower end of the points. Spain produced brake problems en route to 3rd. Vettel was behind Webber in Turkey when he tried to overtake him and accidentally crashed into him. He won in Europe, Japan, and Brazil to keep his title hopes alive. When he won in Abu Dhabi, his main rivals, Alonso and Webber finished 7th and 8th to ensure Vettel's first F1 title.

The two men who joined Vettel on the podium were the two McLaren drivers, Jenson Button and Lewis Hamilton. Hamilton had won the championship in 2008 and Button had won it 2009. They both knew what it was like to win a first title. It was very fitting that all the drivers up there knew what it was like to win a first title.

Vettel came into the 2011 season even more pumped up than ever. Things were looking good when Vettel scored a pole to kickoff the season. He turned that pole into a wonderful season opening win ahead of Hamilton and Petrov. He also got pole in Malaysia and cruised onto another great first place. He got pole in China but lost the lead to Hamilton in the final stages of the race. He got his fourth consecutive pole of 2011 in Turkey but this time turned it into a win. He didn't score pole in Spain but beat his teammate Webber to the top step of the podium. He would pull another win in Monaco but in Canada, he slipped wide on the final lap to let Button win. He won again in Europe with a flawless drive but it would be his last win for 4 races. He was leading in Silverstone but his bad pit stop forced him to finish second. His worst was Germany where he started third and finished fourth. He finished second in Hungary. He then pulled a string of poles and wins in Belgium, Italy, and Singapore. He got pole in Japan but finished third, which was enough to make him the youngest double World Champion.