Singapore Grand Prix: Vettel Victorius, but not Champion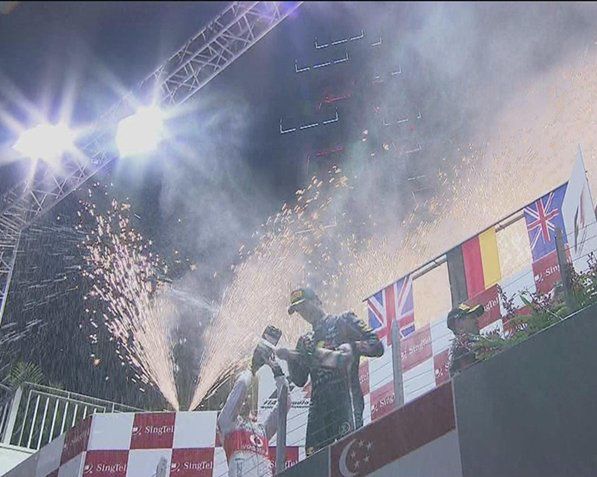 Above: The celebrations were big in Singapore, but they might be even higher for Vettel in Japan.
Sebastian Vettel won his ninth race in the 2011 Season as he could've clinched his second World Championship. But thanks to some good work from McLaren and Jenson Button, Sebastian was forced to wait. Button drove a great race in Marina Bay, and if it weren't for some traffic close to the end of the race, he could've put up a good fight against Vettel in the closing laps of the Grand Prix.
There were a few casualties during the race and most of them were big. Hamilton dropped down several positions at the start after being blocked off by Webber's bad starting Red Bull. When trying to overtake Massa, who was in seventh place, Hamilton clipped Massa's rear tire and punctured it. Both would need to pit for repairs and Hamilton was given a drive through which wasn't really deserved as I think it was a racing incident.
Below: Hamilton got a little too close to Massa and damaged his front wing and punctured Massa's tire.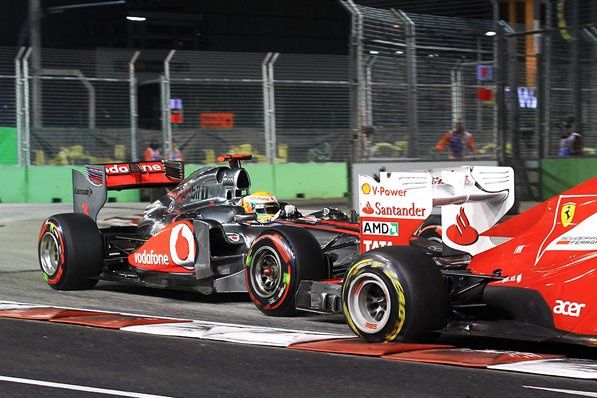 The next incident was much bigger and it involved Schumacher. Both Mercedes drivers were having a good race and so were the Saubers. Rosberg had just gotten by Perez, despite pushing him off the road.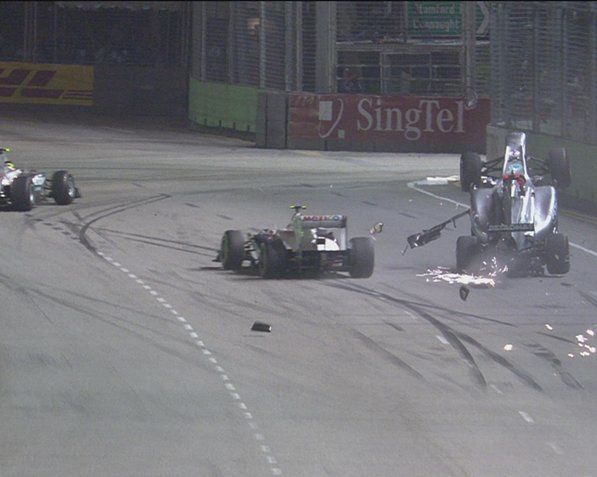 Schumacher got too close to Perez and got launched into a spectacular crash. The Mercedes driver was thrown up and into the barrier. Perez's car was fine though and he continued to finish in the points in tenth spot.
Vettel stayed in the lead during the stops and cruised on to a spectacular win, although it appeared to be that he was running low on fuel in the closing stages of the race. He is one point away from being a dual world champion and the Red Bull's are good in Japan, so we will most likely see the championship wrap up in Suzuka.
Sorry I didn't get new posts up. Something was terribly wrong. But now you can keep checking for more posts before, during, and after each race. Thanks!!