Singapore Review: A World Title on the Edge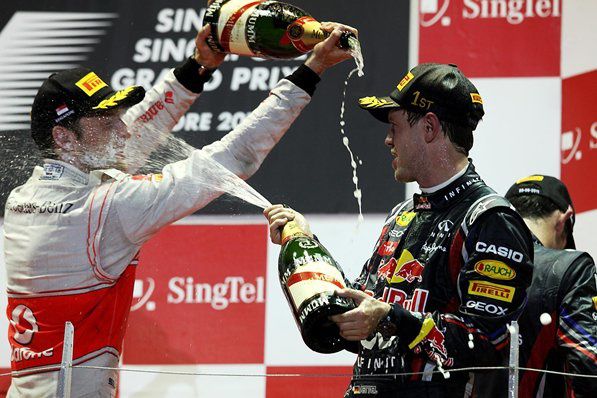 Image: Button and Vettel are the two men that are still alive for the World Championship. But Vettel has got the title in his grasps.
Formula 1 hosted a very eventful Singapore Grand Prix filled with start drama, minor and major accidents, and some intense battles. In the midst off all that, the F1 World Championship could have been wrapped up. But it didn't.
Red Bull's Sebastian Vettel qualified on the pole with his teammate alongside him. The McLaren's filled up Row 2, the Ferraris back on Row 3. Vettel had the advantage since his teammate had been known for making some bad starts this season. That's exactly what happened. Vettel grabbed the lead, and Hamilton tried to gain and advantage on Webber but got blocked off by the Red Bull. Button got by into second, and Alonso slotted into third. Hamilton was seventh, behind Schumacher.
Image [2]: At the start Vettel had the advantage, Hamilton (far right) dropped back several positions.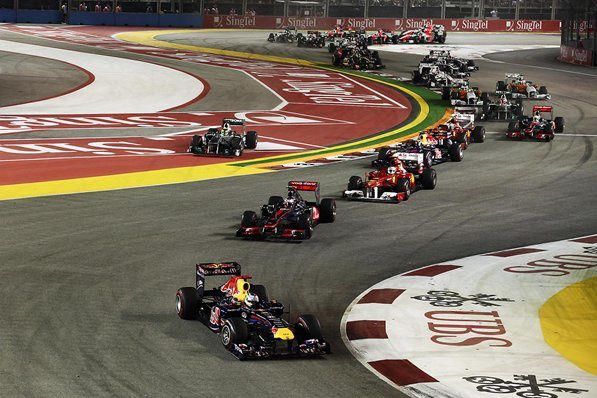 Hamilton would have to get a move on if he were to have any chance of a podium or a win. He started that with a pass on Schumacher's Mercedes. Then the McLaren driver was behind Massa, who he clipped and punctured Massa's tire. Both would pit later on that lap to get repairs, and Hamilton would do a drive thru.
Later on in the race, Schumacher was fighting with the Saubers. He had gotten by Kobayashi and was going for Perez.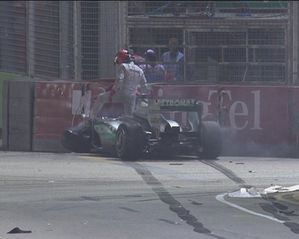 But he got a little too close to the Sauber and launched off the back of it. Schumacher was thrown up and into the tire wall.
Image [3]: Schamcher climbs out of his shattered Mercedes after hitting the back of Perez's car. Schumacher was out, Perez contined with no damage.
In the final stages of the race, Button was closing in on leader Vettel when the Red Bull was running out of fuel. But Vettel had the advantage over traffic on the last lap and kept it together for the race win. But Jenson finished a close second, which meant that he was still mathematically alive for the title by one point.
Suzuka will be a great race to watch. Don't forget live coverage of Friday Practice is on THURSDAY 9:00pm EST, 6:00pm PST.