Speedy Stops: Teams With the Best and Worst Pit Work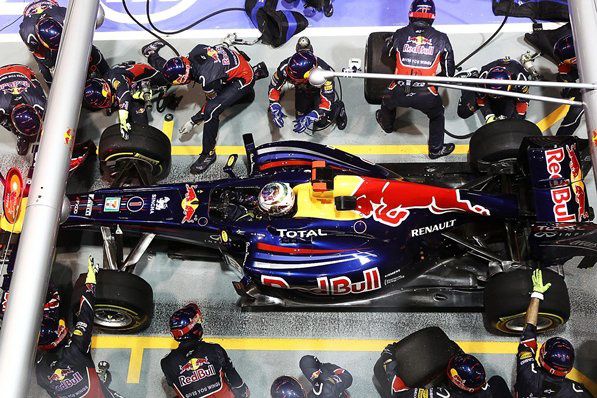 Image [1]: Vettel stops in Singapore where Red Bull set a record stop time of 2.8 seconds.
Formula 1 drivers don't just compete in a race by themselves. In fact, sometimes their wins or retirements are caused by their teams in the pits. That's why pit stops are so crucial. Every tenth and hundredth of a second could make the difference from first to third. One small mistake could lose you the championship. One fast stop could win you a race or make a difference in the championship. Some teams have mastered their stop to where they almost don't need to worry about mistakes in the pits. Others run at the back of the field because of their poor job in the box.
Red Bull Racing is the team to beat in the pits. They have already won several races in the season but some of these wins came from their spectacular jobs off the race track. It's a no-brainer that they will do sub-four second stops and that they won't lose many positions. They've pushed their work to the limits and have done some sub-three second stops and have set the record in Formula 1 for the fastest individual stop with a time of 2.8 seconds. Other teams don't have the advantage when they are racing Red Bull in the pits except for one team.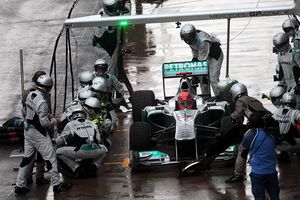 Mercedes GP also has an amazing pit crew. They have spent hours a day before the season practicing to make their stops perfect and their practice paid off. They took a position away from Jenson Button in Korea when Button's crew did a 3.7 and Rosberg's crew did a 2.9 stop. It takes a lot of work to get the stops perfect and Red Bull and Mercedes have mastered their box work.
Image [2]: Schumacher pits in Canada where Mercedes pulled off a 3 seconds flat pit stop which was the record at the time.
One team that still struggles in the pits is HRT. They are slow on track and like a snail in the pits. They are three and a half seconds slower than Red Bull and Mercedes. That's five seconds for a pit stop and that is perilously slow. They may have a slow car on track but if they don't step up their game in the box, they won't have any chance of being the best of the Junior Teams.
988 Pit stops have occurred over the course of 17 races and out of the seventeen, Red Bull has had the best stops eight times, Mercedes has been the best seven races and McLaren and Ferrari both have been the fastest one race apiece. Will anyone else join Red Bull and Mercedes as the King of the Lane? There's two races left so we'll find out!