Williams Launch the FW34 at the First Test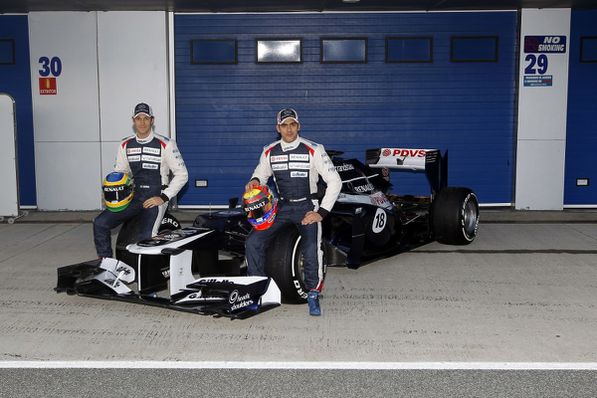 Williams took the cover off the FW34 at the first winter test at Jerez. The new car features a livery and design similar to 2011's car, but the team have are hoping that the new car will be a whole lot faster than the 2011 chassis. The FW34 includes the stepped nose which is a new safety regulation that McLaren doesn't seem to follow. The new car has done a good job so far in testing so lets keep it up!
Team principal, Frank Williams said, "One could say that looking at the Williams F1 Team today we are off to a truly fresh start. We have a new car, new driver line up, new engine and new senior personnel. We also have a number of new partners who have joined the team in the past few months. I'd like to take this opportunity to welcome them formally and sincerely wish that they have an enjoyable and, most importantly, a valuable experience with us. The team has had a good winter at the factory and we feel ready and strong for the fight."
The FW34's rear end is pulled together in a similar way to last year's car despite the team hoping that some minor changes will boost them up the field. Also, this is the first car since the FW19, the car Jacques Villeneuve won the 1997 World Championship in, with a Renault badged engine. To make things even crazier, this car was launched just minutes before the start of testing, but Maldonado finished ahead of Webber in the Red Bull later that day.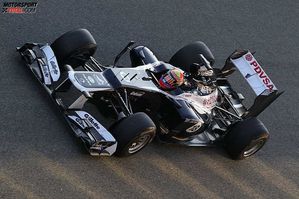 IMAGE [2]: Pastor Maldonado drives the new Williams at the first winter test in Jerez.
Technical chief Mark Gillan added, "We are really looking forward to this season and from a personal perspective I can't wait to get the FW34 on to the race track. The factory has worked extremely hard over the winter to ensure that the car met its design, build and rig test targets and we start testing with the car prepared to a high standard. We've worked in close co-operation with all of our partners to achieve that, including Renault Sport F1. In the run-up to Australia, we will be working hard with our exciting new driver line-up to ensure that we maximise and unlock the full potential of the FW34. It is imperative that we demonstrate a continuous improvement in our performance and deliver results throughout the season."
This new car already looks pretty good, and hopefully it will stay this way for Williams. Right now they are ahead of Red Bull and if that sticks, it would be quite a season. But testing can't be taken for granted because if you did that last year, McLaren would be a backmarker team.