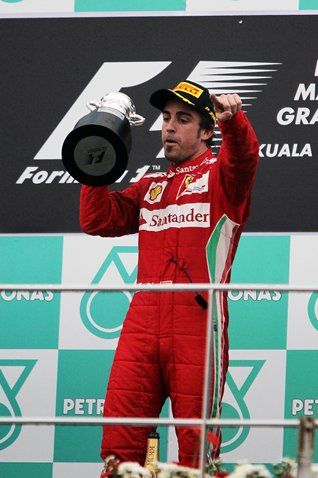 Let It Rain, Let It Rain, Let It Rain
Malaysia
Just a week later, no time to think
Jenson's on top, but that can can change in a blink.
A McLaren front row, rain's starting out light,
Green light in Sepang! Who will put up a fight?
Apparently nobody will, going into Turn One.
But the rain's getting heavier, boy this could be fun!
Perez was the first to switch to extreme wets.
And judging the weather, that might be the best bet.
Visibility was dropping, and Grosjean spun out.
A second retirement continued his drought.
On lap number 6, the rain was pouring down hard
and in the blink of an eye, out came the safety car.
The rain became worse, and the race would be stopped.
Could this be the end, with Lewis on top?
No, it would not, and the race had resumed,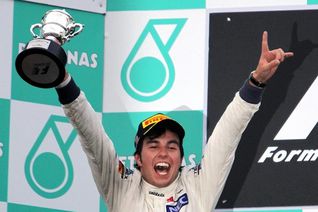 and when the safety car came in, they went off with a zoom!
The track started drying, and inters were key.
but Button had damage, and had to pay the fee.
He was way back in the field, he would need lots of luck.
Meanwhile Vettel was lapping, but he found himself stuck.
Alonso was leading, a fairytale dream,
but it was Sergio Perez who had all the steam.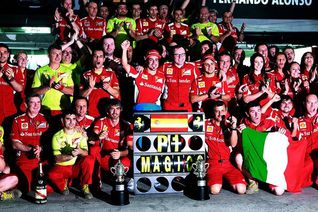 Perez was fighting Alonso, and closing the gap,
but was never to close enough to open the DRS flap.
It was about time for slicks, and Alonso got the edge
but Perez didn't give up, P1 was his pledge.
Sergio got rather close, until he went off.
And Alonso would win because of the Mexican's cough.
The final results were quite a surprise,
but I like them lots better than they would be otherwise.
Up next is China, could it be any better,
it certainly would especially if it got even wetter!

---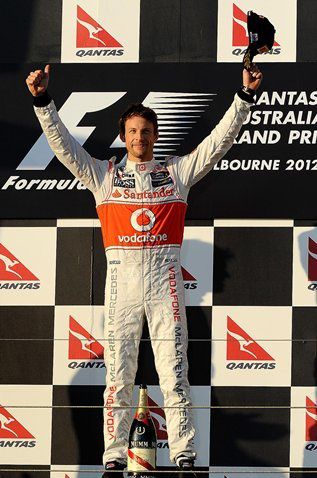 Round One of Excitement
Australia
A field of twenty-four drivers, familiar and not,
a field of new cars, fast and not.
A track that's demanding, 16 corners in all,
This track is Melbourne, host of the Australian Grand Prix.
Each driver has pressure on his shoulders,
for only one of them will win the first race of 2012.
A total of five red lights go on, the engines rev high, and they're off!
Button will lead going into turn one,
there is contact behind, looks like Hulkenberg's done.
Ricciardo and Webber have to visit the pits,
it looks like their home races have been torn into bits.
Jenson, up front, had gapped the field well,
while Hamilton was second, ashamed that he fell.
Safety car, out, a car stopped out on track,
it took quite a while to get it onto the jack,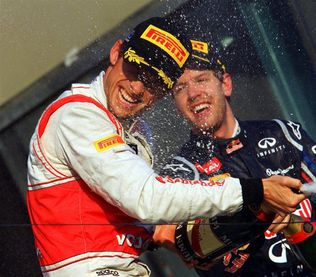 but when it did, the Safety Car pulled in,
and Jenson sped off, desperately wanting the win!
Drama would strike again, it must've been fate,
that Maldonado crashed out on lap 58
It sure was a shame, he was looking at sixth!
However, it was great to see Williams back in the mix.
But back to the action, there was a race to be won!
Jenson Button was able to get that task done!
Vettel worked his strategy right and finished P2,
while Hamilton was third, and feeling quite blue.
Up next is Malaysia, I bet it will be great,
see you in Sepang, March 25th is the date.