Malaysian Grand Prix: Post-Race Interviews
The 2012 Malaysian Grand Prix had to have been one of the best races I've seen in the modern era of Formula 1. Now that the race is over, it's time to look at what the top three drivers had to say to David Croft in the interview room. Fernando Alonso won the race ahead of Sergio Perez, then Hamilton was third. I think we'll all be interested in what the first two have to say, especially the second place man!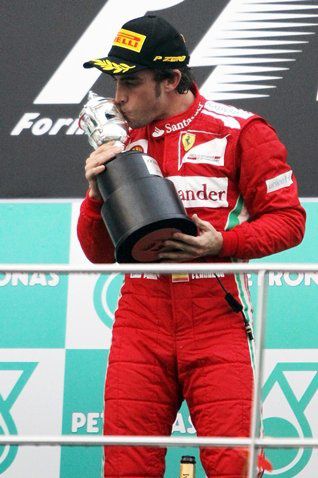 David Croft: Fernando, Congratulations on a victory that you probably didn't expect at the start of the week but what about in the latter stages as Sergio was catching you?
Fernando Alonso: Yeah definitely, a big surprise today with the win. We were not competitive in Australia, we were not competitive here and our goal for this first race is to score as many points as possible. But today we did 25 so it's an unbelievable result, so great job from the team and trackside I think we maximised the potential we have in our hands at the moment. Good qualifying yesterday going into Q3 and then today keeping calm in some extreme conditions I think, at the beginning with the Inters with a lot of water and then switching to the Inters and then switching to the dry tyres in the perfect moment with perfect pit stops. Congratulations to the team because I think they deserve this victory. It's a tough time for us at the moment but this Sunday we will remember.
DC: Fernando, what does this do to a Ferrari team? So many questions asked about the performance of the car in Australia, does this give fresh motivation and can we see it again in the near future?
FA: I think it changes nothing, to be honest. We are in a position that we don't want, to be fighting to go into Q3 and then fighting to score some points. We want to fight for pole positions, for victories, so definitely in the first two races of the Championship that we find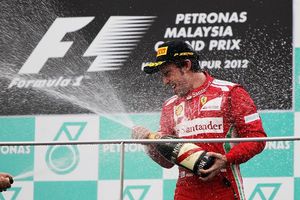 ourselves off the pace. As I said before, the goal was not to lose many points with the leaders. I think we did a job in the trackside, as I said, and we didn't lose maybe any point to the leaders, so this is the positive news about these first two races but coming to China, Bahrain, Barcelona, there is a lot of stuff coming to improve the car and this is the real job we have to do. I know the team is putting in a lot of effort. We trust each other a lot in the team, we are very united at the moment and this win will make us very happy today and maybe the next two days in the factory but it doesn't change our determination to improve the car and to keep winning.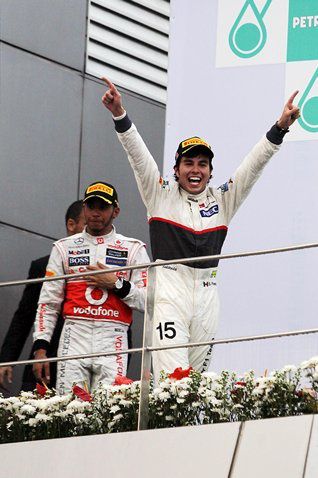 David Croft: I'm sure Sergio it's a Sunday that you'll remember for the rest of your life as well. A phenomenal effort from yourself and the team but do you think this was a win that could have been yours?
Sergio Perez: I think so, I definitely think so. I mean, I was catching Fernando toward the end of the race, I knew I had to get him soon because all the sectors with the high speed I was losing already my front tyres with a lot of degradation going behind Fernando, so it wasn't easy. Then I ran wide in the quick corner, I touched a kerb and I went to the dirty side. It was completely wet and that was the end of the win, probably. It was very difficult obviously to get Fernando but I think today the win was possible. I have to say the team has done an incredible job. They called me always on the right time, especially the first pit stop we did, it was really at the right moment. Unfortunately Fernando pitted one lap earlier than us, towards the end of the race when the track was already dry and he opened some gap there, and even then we managed to get him, the pace was fantastic, I was really quick. I have to say many thanks to the team, they have done a great job and I'm very happy for them.
DC: Sergio, so close, so close! Is that what you're thinking?
SP: Really! I think the win today was really possible. Obviously the team did very good work to call me in at the right times. We lost one lap just at the end to Fernando on the dry tyres, so we lost about two seconds, and then my pit stop didn't go so well with the clutch. And then I managed to catch him, lap by lap.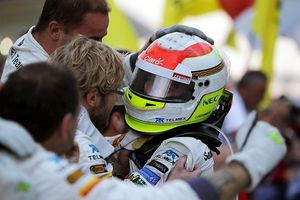 Towards the end I had some understeer into a left-hand corner, the quick one, and I ran wide enough to go into the wet and then I just lost control of the car and went straight and lost the fight for the victory. But even though, I think it's been a great effort for the team. They called me at the right times. The conditions were very difficult to keep the car on the track and they have been incredible. They were quite focused as well, so they always called me at the right time, which was crucial here and obviously we had a great pace. In my second stint, when we changed to intermediates, we changed a bit late and Fernando was already with warm tyres, so it took me some laps to warm up tyres and at that point it was very difficult to get Fernando, but towards the end of the stint I was very close to him. So again he pitted and he pulled away, he pitted on the right lap and it took me a few laps to catch him. When I caught him I knew it would have to be quick to overtake him because I was having a lot of degradation in my front tyres, especially going behind him. So I went looking for the way to get him and then I just ran a bit wide and touched the wet kerb - I was lucky not to go off. In the end, second it's a great result for the team. Many points and I'm looking forward to the rest of the season. It's only the second race of the season and hopefully we can keep improving our car to fight the big guys.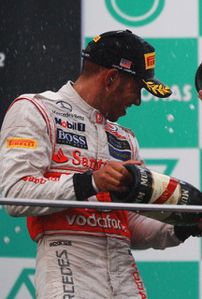 David Croft: Lewis, turning to you, a crazy race, so much going on but the upshot was from pole you finished third for the second week running. Can you be happy with that? Can you be satisfied today?
Lewis Hamilton: I think we can be satisfied, definitely. First of all congratulations to Fernando and also to Sergio who both drove fantastically well. It was very tough to catch them. Yeah, of course we would have liked to have more points this weekend but yeah, I guess I can't really complain. I'm on the podium for second week in a row so I'm pretty happy. I feel pretty fortunate that I was able to stay out of trouble with the conditions changing constantly. I think we did a great job.
DC: Lewis, again, the pit timing was when you lost out to Fernando but were there other problems today?
LH: No. It was a pretty straightforward day. The guys next door (to me here) did a fantastic job. Fernando and Sergio did a fantastic job, so congratulations to them. We just weren't very quick today. We were a little bit unfortunate with the calls. I think we didn't make the right calls at the right time and lost a bit of ground there. We lost quite a lot of time through a couple of the pit stops. I don't know what problems we had but I seemed to be sitting there for quite some time. Otherwise I was just trying to hunt them down but they were both massively quick.