Belgium Review: Red Bull Back in it to Win it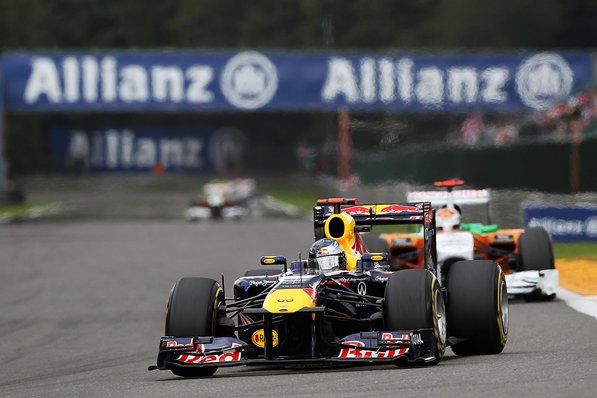 ABOVE: Vettel continued his 2011 domination to Belgium where he overhauled his total points total from 2010 with still seven rounds left to go.
The 2011 Shell Belgian GP was filled with drama with huge accidents, first corner melee, and another win in the bag for Sebastian Vettel and a one-two sweep for Red Bull. But Webber could have won the race if it hadn't been for yet another horrible start.
Speaking of starts, this one was a crazy one as Nico Rosberg leapt to the lead back from row 3. Webber dropped back to eighth, but the drama was farther back in the field. Bruno Senna, who took the place of Nick Heidfeld, who had been dropped by Renault, got into a collision with Jaime Alguersuari, who had made a great qualifying effort to start sixth. The Spanish driver was out, however, and Senna would need to pit for repairs and dropped down the field.
Then, even farther down the pack, the "Junior" teams got into battle and it wasn't pretty. Sutil hit Glock who ran into Heikki Kovalainen who hit his teammate, Trulli. The two Lotus drivers were stranded at the end of the field but continued to race.
Vettel got Rosberg on the second lap to take the lead with the help of DRS. Vettel then took of into the distance. But the tires that Pirelli offered for the race blistered really quickly so both Red Bull drivers came in to pit early on.
Buemi retired on Lap 6 with damage to his rear wing after contact with Perez. But Hamilton had the biggest shunt of all, colliding with Kobayashi and hitting the wall hard enough to knock himself out for a moment.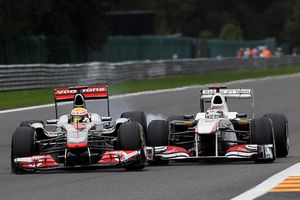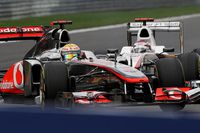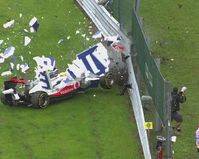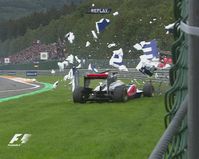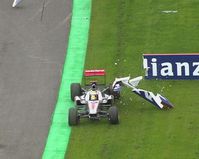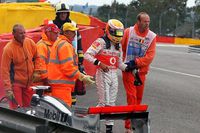 SEQUENCE: Hamilton had a huge crash at Les Combes.
Vettel went on to win a very exciting Belgian Grand Prix and continued to stretch his championship lead. Webber was second, Button third.
Here are the full results.
2011 Belgian Grand Prix by Shell
Place

No
Driver
Team
Laps

Elapsed Time

Grid

Pts
1
1
Sebastian Vettel
RBR-Renault
44
1:26:44.893
1
25
2
2
Mark Webber
RBR-Renault
44
+3.7 secs
3
18
3
4
Jenson Button
McLaren-Mercedes
44
+9.6 secs
13
15
4
5
Fernando Alonso
Ferrari
44
+13.0 secs
8
12
5
7
Michael Schumacher
Mercedes
44
+47.4 secs
24
10
6
8
Nico Rosberg
Mercedes
44
+48.6 secs
5
8
7
14
Adrian Sutil
Force India-Mercedes
44
+59.7 secs
15
6
8
6
Felipe Massa
Ferrari
44
+66.0 secs
4
4
9
10
Vitaly Petrov
Renault
44
+71.9 secs
10
2
10
12
Pastor Maldonado
Williams-Cosworth
44
+77.6 secs
21
1
11
15
Paul di Resta
Force India-Mercedes
44
+83.9 secs
17
12
16
Kamui Kobayashi
Sauber-Ferrari
44
+91.9 secs
12
13
9
Bruno Senna
Renault
44
+92.9 secs
7
14
21
Jarno Trulli
Lotus-Renault
43
+1 Lap
18
15
20
Heikki Kovalainen
Lotus-Renault
43
+1 Lap
16
16
11
Rubens Barrichello
Williams-Cosworth
43
+1 Lap
14
17
25
Jerome d'Ambrosio
Virgin-Cosworth
43
+1 Lap
20
18
24
Timo Glock
Virgin-Cosworth
43
+1 Lap
19
19
23
Vitantonio Liuzzi
HRT-Cosworth
43
+1 Lap
22
DNF
17
Sergio Perez
Sauber-Ferrari
27
Rear axle
9
DNF
22
Daniel Ricciardo
HRT-Cosworth
13
Mechanical
23
DNF
3
Lewis Hamilton
McLaren-Mercedes
12
Crash
2
DNF
18
Sebastien Buemi
STR-Ferrari
6
Damage
11
DNF
19
Jaime Alguersuari
STR-Ferrari
0
Damage
6