Qualifying Review: Can defeat be deafeated?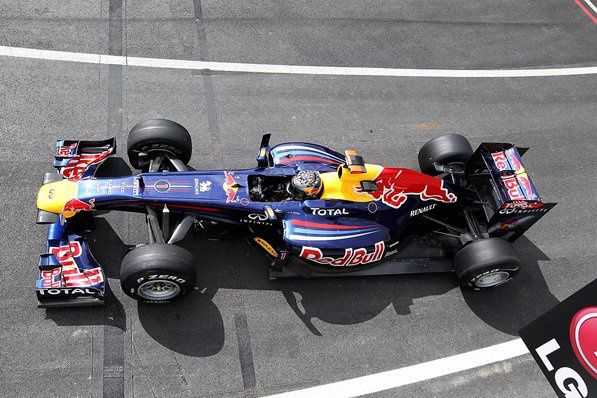 ABOVE: Vettel didn't set the fastest time in Q3 for only the second time in nine races.
Qualifying was a thriller with an exciting climax. Mark Webber snatched the pole position away from his teammate who has taken seven of the nine poles this year. The only time he's been beaten to the pole was at Spain and now, both taken by his Red Bull teammate. The Energy drink backed squad has purely dominated the 2011 Formula 1 season scoring poles at each race so far and winning six of the eight races that have been run. And each race that Red Bull won, Vettel won.
Mark Webber's pole could set him up for his first win of the year and back-to-back victories in Silverstone, but there will be enormous pressure from his World Champion teammate behind. But Mark might not even have the lead when the pressure would be put on. He hasn't made the best of starts all year, whether it was from pole or P18.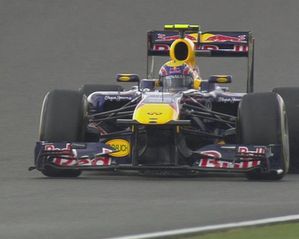 Last year in Silverstone, Mark took advantage of Vettel's bad start. It all began when Vettel tried pushing Vettel to the wall. Webber pushed Vettel right back and Hamilton clipped Vettel and gave him a puncture. Then Webber cruised to the win. But now he has to make the good start without Vettel's help. But could Sebastian make an even better one. He has been known for just driving off into the distance leaving the field two seconds behind after the first lap. Could Sebastian make his rocket start or will Webber be able to maintain pole? It will be great to watch, no doubt about it.
RIGHT: Webber, moment after grasping pole from his teammate.
Here's Saturday's Poll Position:
Can Webber hold his lead during the race?
a) Yes, no problem
b) No, Vettel will take it easily