Barcelona Day 5: Grosjean Marks Fantastic Lotus Comeback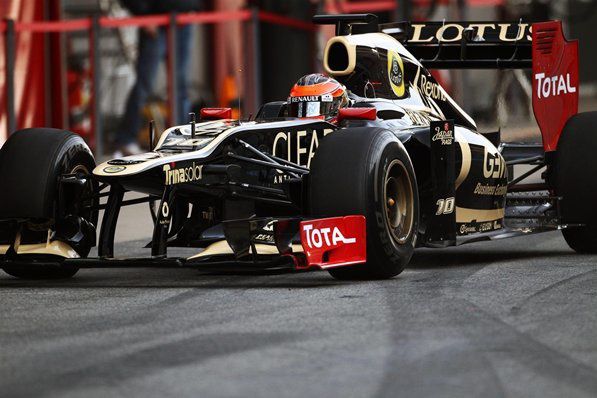 Missing a whole week of testing didn't phase Romain Grosjean as he powered the Lotus to the top of the timesheets. It looked as if Jenson Button was going to take the top spot after lunch, but Grosjean couldn't keep a 1:23.252 from slipping out. Lotus missed last week's testing in Barcelona because of a suspension failure on the first day. They obviously fixed it, and now they are back on track, impressing as they had in Jerez.
It looked like it would be the first time that McLaren topped the timesheets this year, but Jenson Button's fastest morning time was bumped down to second in the afternoon. It is a rare sight to see the fastest time set in the afternoon, but it can always happen. However, it was still McLaren's best testing result of the year, and hopefully more changes and tweaks can keep them in the first to second range throughout the season.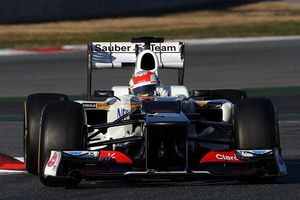 Sergio Perez continued Sauber's good run and set the third fastest time. The Mexican driver stuck with Jenson and Romain's pace throughout the whole session; and put in forty more laps than both drivers. He wasn't too happy to see Grosjean breezing past in the afternoon, but all in all, it's great to see the Sauber up at the front.
Mark Webber was right behind Rosberg in the morning, and I mean it literally. He pushed his Red Bull hard but only managed a 1:23.993, one thousandth slower than the German, but managed to jump ahead of the Mercedes in the evening. He improved his time by a tenth, and continued his streak of jumping up the order in the afternoon.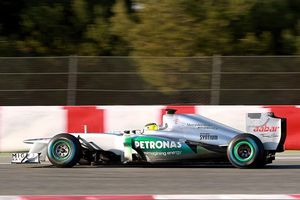 Ever since Mercedes launched the W03 last week, their pace hasn't been clear. Some days they were closer to the front and others they were just ahead of Caterham at the back. Today, they were right in the middle. Nico Rosberg had a productive day on the track, even will Webber jumping him later on. He left today setting 128 timed laps and a time of 1:23.992.
Jean-Eric Vergne was the first man in the 1:24s on Thursday. He was out on track for enough time to set 113 timed laps and to keep Paul di Resta from sneaking in from behind. Ferrari had another miserable day as Felipe Massa was only the eighth fastest man on track. Massa was thirteen thousandths off di Resta's time, but nevertheless, he was behind the Force India.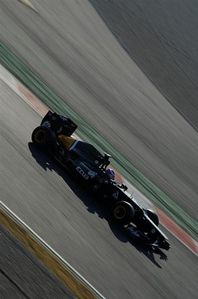 This was the first time that Caterham was faster than another 2012 car in testing, which made the team very happy. Vitaly Petrov was on track for 123 laps, which was a good amount for the day. The 2012 car he was faster than was the Williams of Maldonado, who was in the pits for most of the morning.
Here are the final results from today's testing session:
| | | | | |
| --- | --- | --- | --- | --- |
| 1. | Romain Grosjean | Lotus E20 | 1:23.252 | 73 |
| 2. | Jenson Button | McLaren MP4-27 | 1:23.510 | 64 |
| 3. | Sergio Perez | Sauber C31 | 1:23.820 | 118 |
| 4. | Mark Webber | Red Bull RB8 | 1:23.830 | 102 |
| 5. | Nico Rosberg | Mercedes W03 | 1:23.992 | 128 |
| 6. | Jean-Eric Vergne | Toro Rosso STR7 | 1:24.216 | 113 |
| 7. | Paul di Resta | Force India VJM05 | 1:24.305 | 98 |
| 8. | Felipe Massa | Ferrari F2012 | 1:24.318 | 105 |
| 9. | Vitaly Petrov | Caterham CT01 | 1:24.876 | 123 |
| 10. | Pastor Maldonado | Williams FW34 | 1:25.587 | 58 |