Japanese Grand Prix: Button celebrates victory, Vettel celebrates a title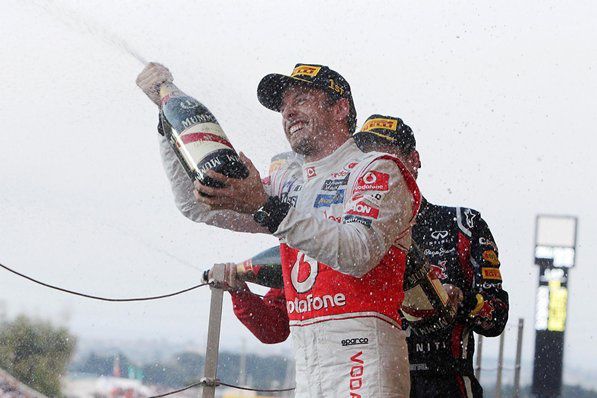 Image [1]: Button drove a brilliant Japanese Grand Prix, but it wasn't enough to stop Vettel from winning the title.
At the end of the Japanese Grand Prix, two men were celebrating. Jenson Button celebrated a well-deserved win and Vettel celebrated his second World Championship. Vettel finished third which meant that Button's victory wouldn't stop Vettel from clinching the title in Suzuka.
Fernando Alonso came out of the nowheres to score second over Vettel and made the podium again.
The race wasn't filled with much drama other that Buemi retiring with a wheel failure. Hamilton and Massa made contact which brought out the safety car for one lap. Some brilliant passes were made but those and a bunch of other details from the race will come with a review article tomorrow. Also don't miss a feature on Seb Vettel coming out soon!
Image [2]: Vettel is now the youngest dual World Champion. What was this kid like as a baby?