Pre-Brazil: A Look Into the Future (and into the past)
Sorry I haven't gotten new updates up...my internet connection was awful. I'm back in time to take a look back at last year's Brazilian Grand Prix and and give a look into what might happen in the upcoming Brazilian Grand Prix.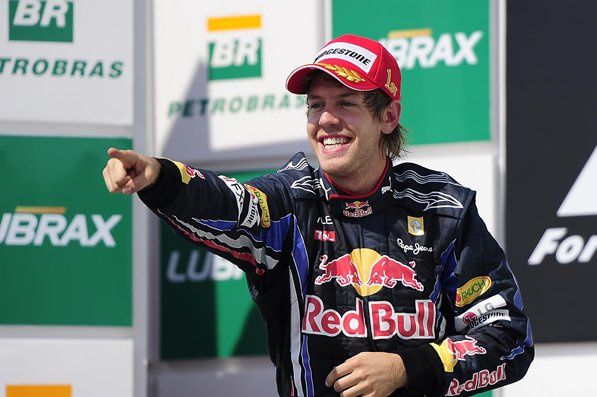 IMAGE [1]: Sebastian Vettel celebrates his win in Brazil and Red Bull's Constructors Title on the podium.
The 2010 Brazilian Grand Prix brought surprises, action, and ultimate victory. Sebastian Vettel walked home with the race win but he had to fight the whole race for it. It wasn't just Sebastian's victory, but Red Bull's as well. The Austrian squad clinched their first Constructors World Championship with the one-two sweep in Interlagos. The team had come far and would step even further to where they are today, which puts them as the favorites for the win in Sao Paulo.
The amount of Brazilians in the sport is little but there is a lot of talk about the ones that are in the sport. Bruno Senna will be popular because he has the famous Senna name with him, the same Senna name that Brazilians were worshiping just some years ago. Rubens Barrichello also will be popular in Brazil, as he has raced in front of his home crowd for several years and everyone has gotten to know who he is. Felipe Massa is also another Brazilian that will hope to do well in Brazil. The Ferrari driver has won the Brazilian GP and the crowd hopes he can do it again.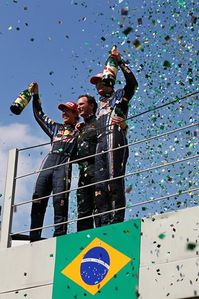 The McLaren Mercedes boys weren't that competitive in Interlagos last year which is saying something. If they aren't in the front challenging Red Bull, who will? Maybe Ferrari. Even with the Italian team focusing more on their 2012 car, Fernando Alonso and even Felipe Massa could be a factor in the race. If neither of these teams have the pace in Brazil, it will be a runaway victory for Red Bull.
It might be a runaway victory for Red Bull, but for which driver. Everyone will say Sebastian Vettel, but you can't count Mark Webber out yet. The Australian appeared to be mainly helping Vettel win the title, but now that Sebastian has clinched the championship, Mark can give it his all. Yes, Seb has the advantage, Seb has the support, but Mark still has the pace and this could be where he can show it. Webber won here in '09 and finished second in 2010. What can he do in 2011? That question will be answered next weekend.
IMAGE [2]: Vettel (right), Christian Horner (center), and Webber (right) celebrate the team's success on the podium.
Last year, a Williams started on the pole. There is almost a 100% chance that Williams won't be even close to that this year. It's not that the drivers aren't talented, it's that the car doesn't have any speed at all. If Williams could step up to the plate, swing, and hit, it would be a great achievement for the team. Barrichello is one of the drivers that is part of Williams,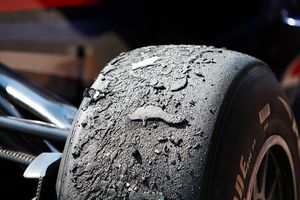 and everyone in the crowd will want him to do well.
IMAGE [3]: This is a BRIDGESTONE tire. If a Bridgestone looks like this after the Brazilian GP, imagine what a Pirelli will look like.
Tires will also be a huge factor in the upcoming grand prix. As shown in the image, the tires will degrade fast and conserving those compounds will be crucial. One man that is known for looking after his tires is Jenson Button. Maybe Jenson can bring McLaren a good result after all. You never know though, because any driver can get his strategy right or wrong during the race.
It'll be interesting to see who does well in the Brazilian Grand Prix. Don't forget to tune into the race on Sunday, Qualfiying on Saturday, and the Practice on Friday and Saturday morning.