Masters of the Midfield: A Look at Force India's 2010 and 2011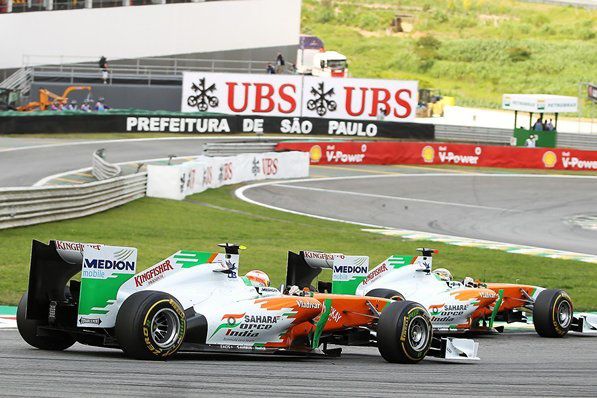 IMAGE [1]: Sutil (left) and teammate di Resta (right) battle for position in the Brazilian Grand Prix.
A team who finished sixth in the Constructors' World Championship was a team who just three years ago dreamed about scoring a championship point. Three years on, Force India is a force, a force to be reckoned with. As the team continues to grow, their results get better, the drivers get more talented. Last year was a bigger struggle for the Indian squad, but the team was only one point better than their 2010 total.
At the season opener in Melbourne, both cars made it into the points with Sutil ninth and di Resta tenth. In Sepang, Sutil was unfortunate to finish in eleventh, but his teammate was able to pick up another point with tenth.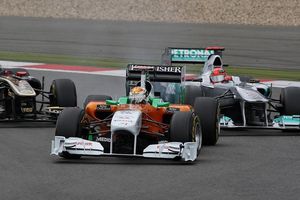 So far, 2010 was looking to be the better season for Force India with the total points total eight to this year's four.
IMAGE [2]: Sutil leads Michael Schumacher and Nick Heidfeld at the German Grand Prix, Sutil's home race.
China wasn't as successful for di Resta and Sutil. di Resta did a great job to qualify eighth but he finished out of the points in eleventh. Sutil got off worse though. The German driver finished fifteenth. Things didn't get much better in Istanbul when di Resta retired. Adrian continued on to thirteenth, but P13 wasn't a points-pane position.
At this point 2010 was looking way better than 2011. 2010 had given Force India eighteen points while 2011 had given them only four. You couldn't start saying that 2011 was a bust quite yet though. The Indian team might have some aces up their sleeve. If there were aces in there, they didn't come out in the Spanish Grand Prix. di Resta was twelfth and was followed by his teammate. Things got better in Monaco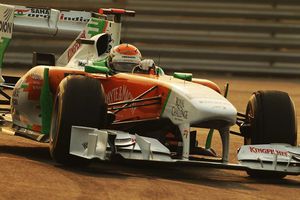 when Sutil finished in seventh. di Resta was out of the points once again but the six points Sutil bagged was good enough to cover di Resta's charges.
IMAGE [3]: di Resta navigates round the new Indian circuit.
Canada might be the worst race with both cars retiring after accidents in the wet weather. After the European Grand Prix, 2011's season had 12 points while 2010's had 43. Nothing got better in Great Britain even though di Resta qualified sixth. But it got a lot better in Germany when Sutil finished in a fantastic sixth place. After Germany, 2011's total wasn't near as close as 2010's but it was catching up.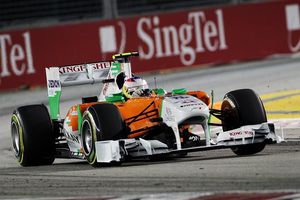 Hungary, Belgium, and Italy brought a good sixteen points which made it 36 to 58. The best race however was Singapore with both drivers finishing well into the points. di Resta was sixth and Sutil was eighth. That race alone made the comparison 48 to 60.
IMAGE [4]: di Resta makes his way to sixth in the Singapore Grand Prix.
No points were scored in Japan and only three were scored between Korea and India. Six were scored in Abu Dhabi which made it 57 to 68. It was close but Force India needed a miracle. A miracle is what they got when the team got another 6-8 finish, this time with Sutil in front. The twelve points in Brazil put Force India just one point ahead of their 2010 season, but they had to work hard for it.
What can Vijjay Mallya's team do next year? We'll have to wait until next year to find out!